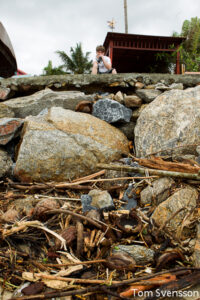 Iam in Thailand to work with the pink dolphins, or try to !
We have had rain and windy every day but the last two days
it turned in to a tropical storm. We didnt think it was to bad
until we came down to the beach the folling morning.
The beach which started with wonderful white sand where my
son sits is now gone !
Everything was destruction !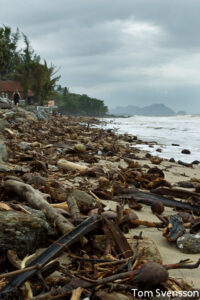 We also found out the there had been a large land slide
during the night and that it had killed 2 monks, really sad.
And all these trees was now on the beach.
If you look on the photo you will see my wife walking along what was yesterday
the beach and the way out on the beach, Now ……
I did later go to the place where the land slide had been and the destruction
was enormous and I didnt want to take photos there knowing that
two people died there.
All we can do is hope the weather will change
The power of the weather is big